September/October 2019
Volume 15/No.5
The Immaculate and the Sacrificial Dimension of the Eucharist
Fr. Stefano M. Miotto, F.I.
Mary, Life of the Soul
Docility to the Spirit of Truth
Fr. Agnellus M. Murphy, O.F.M.Conv.
Mary in the Life of the Church
Blessed Conchita (Concepción Cabrera de Armida) - Part 4
Msgr. Arthur B. Calkins
The Saints and Our Lady
Sr. M. Ancilla Matter, F.S.G.M. and Fr. Elias Mills, F.I.
The Immaculate: Mystery and Revelation
The October 1917 Apparition of Our Lady of Fatima
Sr. Maximilian Therese of the Immaculate Heart of Mary, F.T.I.
Living the Fatima Message
Our Lady of the Sioux — Part 2
Rich May
"God's Blessing to the Church"
Br. John M. Samaha, S.M.
Mary Our Mother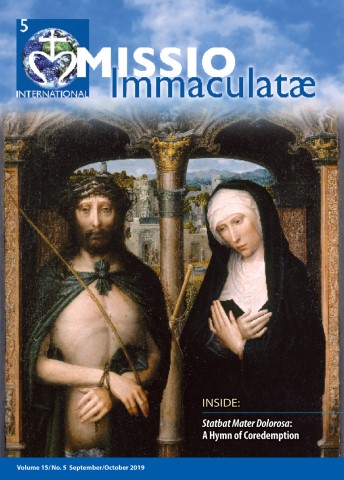 Blessed Conchita (Concepción Cabrera de Armida) - Part 4
Msgr. Arthur B. Calkins
The Saints and Our Lady